I'm not usually a big fan of those Facebook notes that involve a long Q&A and an ensuing tagging frenzy — they somehow feel like chain letters. But the 50 Bands I've Seen notes have been interesting. In reading some of my friends' lists, I want to know more about the stories behind some of the shows… How did Jack end up at a Ravi Shankar gig? Nicole saw the Philosopher Kings too… is she as sheepish as I am about being one of their 12 avid fans back in the day? How come Derek listed 100 bands, and was Marilyn Manson a boob?
So here is my list of 50 Bands I've seen… with some sidebar notes. I'm posting here because it includes blathering… which I'm somehow more comfortable doing that here than on Facebook.
–

0 – George Michael was supposed to be my first concert when I was 13. I asked my Mom if I could see him, she said yes, and I proceeded to bounce off the walls. But shortly after, my parents got tickets for us to go see Cats. On the same night as Georgios was playing. I pouted a lot. To this day, that "Memories" song still makes me wince a little.
1 – NKOTB then became my first ever concert. I was in grade 9, and I loved Joey Joe.
2 – Sinead O'Connor was my second concert, just months after.
3 – The Bourbon Tabernacle Choir was my favourite band in high school and university; they were the first band I snuck into a bar to see. I saw their last-ever show in '97; their sax player (whom I'd gotten to know because I did some artwork for their website) showed me how to play the musical saw after the show.

4 – Gomez, easily one of my absolute favourite bands all-time.
5 – The Rhinos, before Danny Michel went solo.
6 – Danny Michel
7 – The Philosopher Kings (more times than I'd like to admit).
8 – Coldplay — back when the only song I knew by them was Yellow. They blew me away. Having just played Montreal the night before, Chris Martin spent the entire show speaking to us in broken French: "Uh, bonjour… voici un chanson qui s'appelle… Clocks!"
9 – Joel Plaskett — too many times to count.
10 – Peter Elkas, aka. my funny valentine. One of my favourite shows with him was a CBC Fuse session with Alanna Stuart, and they did a rockin' cover of the Family Ties theme.
11 – Dan Mangan. Watch for him. Now that I've written his name, I'll have Robots in my head for days, and that's not a bad thing.
12 – Neko Case. My first time seeing her, my friends and I drove to Montreal on a Tuesday evening, were mesmerized by her, and drove back. Worth every second.
13 – Jamiroquai — also in Montreal. Dude can dance.
14 – Two Hours Traffic

15 – Josh Ritter
16 – José Gonzalez
17 – Leonard Cohen
18 – Dave Matthews Band. I got a free ticket and went, knowing only a couple of songs. The stadium was one huge hotbox… A guy in a nearby seat got taken away by security for recording a video, in the meantime. The show? Meh.
19 – Manu Chao… the energy!
20 – Amadou & Mariam
21 – Ohbijou
22 – Elliott Brood

23 – The Golden Dogs
24 – Cat Power
25 – Great Lake Swimmers
26 – Wintersleep
27 – The Acorn
28 – Jenn Grant. Go see her. She astounds and moves me.
29 – Northern Pikes. And this was just a couple of years ago at a free outdoor folk festival. They were super super chatty, and an elderly lady yelled at them "Shut up and sing already!" Aw…
30, 31 and 32 – Justin Rutledge, Melissa McLelland and Luke Doucet (together and separately)
33 – Tori Amos.
34 – Craig Cardiff, who made me cry.
35 – Chad VanGaalen — possibly one of the most gifted renaissance guys around.
36 – Sunparlour Players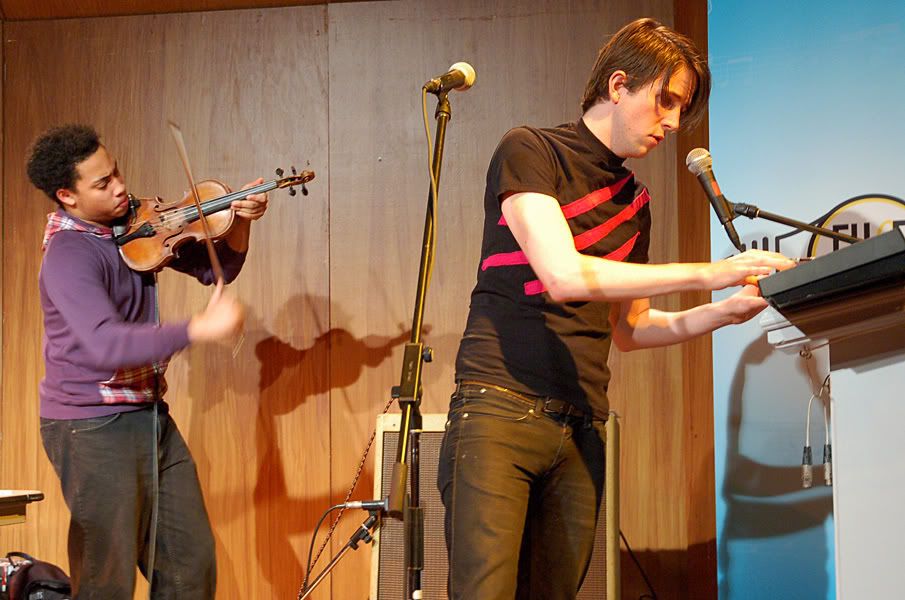 37 – Final Fantasy, who oozes talent and eccentricity. His stint on Fuse also stands out in my mind; he did it with rapper Cadence Weapon, who played FF's violin for a song.
38 – Kathleen Edwards
39 – Jim Bryson
40 – Hilotrons — a veritable dance party.
41 – Steve Earle. I got ridiculously close to the stage for this show, not even realizing who he is but then saying over and over "Oh, I know this song!"… It was a pretty humbling evening.
42 – Stars
43 – The Weakerthans. They have some of the most thoughtful, intelligent lyrics around. Their show was in keeping with this — really gracious with the fans.

44 – Feist. Love her stuff, but was disappointed by both shows I saw of her. Much prefer her cameo on Sesame Street.
45 – Meredice Luce. This is one incredibly talented girl (plus a lovely friend and terrific silkscreening helper!)
46 – Busdriver
47 – Matthew Barber
48 – Jill Barber
49 – Ben Harper
50 – The Rolling Stones… sort of. They played the Ex a few years ago, just a block from my apartment. I had people over and we listened from my balcony. They still got it.
–
How about you? Any shows worth mentioning? Who was your first / most recent / weirdest / best / loudest / most-embarassed-to-say-you-went-to concert?